Read the Old Wills to Find the Ancestors!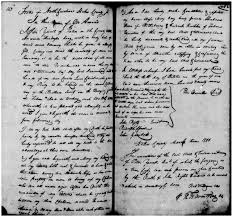 Researching County records is the single most important record for the genealogist. Think about his. Whenever you move into a new area, the first thing which you do is to make public records at the county court house. This is where the deed to your houae is recorded, you pay taxes, the children acquire marriage licenses, and finally, you file your estate or last will and testament. The will is your final story. It is where you provide the names of children and their spouses, grandchildren, wives, and other relatives. Should one die intestate, then there is no will, but there is an estate! An administrator is appointed, inventory taken, sale of estate items, and an annual return is filed for every year during which the estate is open, providing pay-outs to the heirs. The old wills of all kinfolk should be examined, because this is where to locate names of cousins, aunts, uncles, and even relatives in foreign countries.
New Additions to 8 Genealogy Websites:
Early County Records Available to Members of Georgia Pioneers



Marriages

Index to Early County Marriages 1823-1834
Index to Early County Marriages 1868-1889

Digital Images of Early County Wills 1822-1832

Testators: Broom, Thomas;Cole, Mark; Curry, Samuel; Gilley, John; Griffith, John; Holmes, Nathaniel; Jackson, Robert; Jackson, Samuel; Kelly, William; Liverman, Brown; McCulloh, Anthony ; McCulloh, Leonard; Porter, Benjamin; Sheffield, Isham ; Smith, Laden; Watson, Alexander

Digital Images of Early County Wills 1839-1895


Testators: Alexander, James; Alexander, Martin ;Averitt, Abner; Averitt, Ephaly ;Bailey, William ;Bird, James ;Bryan, Sylvanus ;Bryan, William ;Calhoun, James; Calhoun, William ;Chivers, Larkin ;Coley, Philip ;Collier, Benjamin ;Collier, John ;Cook, W. C. ;Crawford, Joel ;Deal, John ;Dill, Job ;Dixon, Jeremiah ;Douglass, Elisha ;Ford, William ;Freeman, James ;Gilbert, John ;Glenn, James ;Goocher, Milton ;Grier, Moses ;Griffin, William ;Grimsley, Joseph ;Grimsley, Lewis ;Grimsley, Sarah ;Grist, Martha ;Harrell, Jane ;Harris, Joshua ;Haynes, Thomas ;Hays, Mary ; Hightower, Joel ;Holmes, Richard ;Howell, Edward ;Hutchins, Anthony ;Hutchins, Henry ;Hutchins, Jefferson ;Johnson, Joshua ;Jones, Thomas ;Knight, William ;Lee, Clem; Lee, Zadock ;Lewis, Mathew ;Lundy, Mary ;Mercier, Elizabeth ;Mercier, George ;Odum, Charity ;Parramore, Susannah ;Perry, Elizabeth ;Perry, Joel; Pirkle, Richard ;Powell, Coleman ;Powell, Hiram ;Powers, Sarah ;Reese, Hillman ;Ritchie, James ;Robertson, James ;Sammons, William ;Sanders, Mark ;Shackelford, Harriet ;Shackelford, James ;Taylor, James Jones ;Temples, Frederick; Thompson, Robert; Wade, William ;Wilson, Solomon; Yeldell, Robert

Indexes to Probate Records

Index to Early County Will Bk B, 1839-1895.
Index to Early County Will Bk 2, 1896-1941.

Miscellaneous Wills

Estate of Bealer, Alex W. (1919) (image).
Get more Genealogy Real Estate for your Effort
. Genealogy Records in Alabama, Georgia, Kentucky, North Carolina, South Carolina, Tennessee and Virginia
Subscribe to 8 Genealogy Websites
-Senior Rate for Genealogists now available-