To Find Ancestors, Read the Old Wills and Estates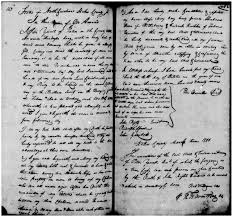 Those records generated by one's own family are the most accurate. For example, bible records, death notices, tombstones, deeds, marriages, and old wills and estates. That is because the ancestor took an active part in his affairs. Census records are like second-cousins. A form is completed by a census taker who got the information from whomsoever was found at home that day. Sometimes the relationships are not clearly stated, and the names are carelessly written. Also, to trace further back in time, one must read the court house records. Such records are better resources than say, a printed genealogy dating in the 1920s or 1930s.
New Additions to 8 Genealogy Websites:


Marriages
Index to Emanuel County Marriages 1817 to 1860
Images of Will Book A, 1825 to 1857
Testators: Atkinson, Alexander W.| Barwick, Nathan | Beacham, Lewis | Beasley, Right M.| Bell, Daniel | Bell, John, minors of | Bennett, Benjamin | Bird, William | Bonell, Anthony | Boyd, Eliza | Boyet, Arthur | Boyt, James | Brady minors | Braswell, Kindred | Beasley, Right M. | Brown, Jesse | Brown, Jesse W. | Brown, Mary | Bullock, Rufus B., Gov. (bond of) | Clifton, John | Coleman, Jonathan | Coleman Perry | Cornevah, William | Crooker, Lemuel | Culbreath, Daniel | Daughtry, James | Dekle minors | Douglas minors | Edenfield, Jesse (Gift Deed) | Edenfield minors | Edenfield, Robert | Faircloth, Charles | Fountain, William (Gift Deed) | Gillis, August | Gillis, Murdock | Green, Daniel, minors | Griffith, William L.| Hall, Juniper | Hendly, James | Higdon, Robert (receipt) | Hooks, John | Hutchison, Aaron | Jenkins, Charles C. | Johnson, Benjamin W. | Johnston, William | Jones, William | Kemp, John A. | Ken, William C. | Kirby, Moses to Margaret (Gift Deed) | Knight, Rufus | Kurt, Thomas | Lain, Abraham L. to Benjamin Lain (Gift Deed) | Lane, Edward | Miner, Phillip H. | Moore, James | Morgan, Christopher C.| Nasworthy, George W. | Neel, Judith | Newton, Phillip| Nun, Joshua | Nunez minors | Oglesby minors | Owens, Littleton | Phillips, Ryal Bud Phillips, Sherrod | Rea, Spencer | Rountree, Delilah (Gift Deed) | Rountree, James | Rountree, Nancy| Rowell, William | Rowland, Jules, minor| Sawyers, minors | Sherard, Benjamin| Sherod, minors | Sumner, Joseph | Sutton, Jordan | Tapley, William| Thigpin, Travis | Thompson, Robert\ Tison, Stephen | Turner, Absalom| Walen, James | Wallace minors| Ward, Sarah, widow of Elia|s Warren, James | Webb minors | Wiggins, John | Williams, Hester| Williams, James | Williamson, John| Wolf, John | Wrenn, Susannah to daughter, Sarah Paulett Monroe (Gift Deed)

Images of Wills 1857-1907
Testators: Allen, Morning| Anderson, John H. |Atkinson, Alexander| Banady, J. W|. Barwick, Council (colored)| Barwick, George| Barwick, Lott (Indenture)| Barwick, Nathan| Barwick, Rountree| Beasley, Albert| Bell, Eady F. |Bishop, James| Bishop, William C.| Brinson, Benjamin| Brown, Gideon H.| Brown, James| Brown, Mike| Brown, Queen Elizabeth| Burnett, Ishmay| Carmichael, Mattie M.| Clifton, George| Coleman, Amelia| Coleman, David |Coleman, Elisha| Coleman, Jeremiah| Cowart, Ada| Cowart, Jonas J.| Cross, Augustus A. (Indenture) |Danford, James A.| Brown, James| Deal, William A.| Dickenson, Stephen| Dickey, Joseph W.| Durden, Lotte| Durden, William| Edenfield, Eli J.| Edenfield, James H.| Ellison, James H.| Forehand, William J|. Gains, Jeremiah| Garbutt, George| Gillis, Catharine| Hall, William (Indenture) |Hargrove, Vincent B.| Harrington, James H.| Hendley, Edel| Hendly, Wade| Henly, Thomas F.| Hooks, Jonathan| Hutchison, Aron| Hutchison, Moses| Jones, S. S.| Jordan, William| Kent, Daniel| Kersey, Thomas| Key, Wiley| Lamb, L. J.| Lane, Benjamin L.| Lewis, Zachariah |McLemon, Ira F.| McLemore, John L.| McLeod, Duncan| McLeod, J. W|. Moseley, Clement C.| Odom, Archibald| Oglesby, John W.| Oglesby, Seaborn| Overstreet, John| Parish, Isiah Mitchell| Phillips, Wilder| Phillips, William| Rabb, Ella W.| Rountree, George S.| Rountree, John R. |Sherod, Benjamin| Sherrod, Benjamin| Smith, Jacob L.| Smith, White V.| Stephens, James B. |Stephens, William| Stoud, John| Sumner, Jethro| Sumner, Mary D.| Sumner, Richard |Sumner, Richard |Thigpen, Malancton |Ward, Fereby| Watson, Rachel |Youmans, Nathaniel E. |Youman, Solomon |Youngblood, Spencer

Annual Returns, Book A, 1836 to 1866
Names of Estates: Barnes, Juliann |Beasley, Right | Bird, Lewis (estate) | Brice, William | Bronson, Alexander | Cowart, Abraham | Deal, Simon | Drew guardians | Dunsford, Etheldred | Dunsford orphans | Gay, Mathew | Green, Daniel | Griffin, Casandria | Griffin, James | Griffin, John | Griffin, Mary | Griffin, Reuben | Hall, James | Hurdly, William | Hutchinson, John | Hutchinson, Joshua | Jenkins, John | Jenkins, Mary | Jenkins, Samson | Johnson, John | Johnson, Mary | Johnson, Roan | Johnson, Seaborn | Johnson, Susanna | Martin, Thomas | Neal, Mitchell | Nunn, James Orkey, Warren Rey | Pullen, Henry | Reubin, Mary | Rey, William | Roberts, Nathan | Sconn orphans | Searcy, Ludusky | Sherrad, Benjamin | Smith Amanda | Stroud, James | Stroud, Thomas | Thomson, Hugh | Walea, James | Wiggins, Elihu | Wiggins, Jesse | Williams, Hester | Williams, Thomas

Indexes to Probate Records
Wills, Administrations, Guardians, Bonds, Book A 1815-1868.
Minute Book 1841 to 1857

Misc. Wills and Estates

Roberts, Nathan, LWT (1828), image of original
Sison, Stephen, LWT.




Get more Genealogy Real Estate for your Effort
. Genealogy Records in Alabama, Georgia, Kentucky, North Carolina, South Carolina, Tennessee and Virginia
Subscribe to 8 Genealogy Websites
-Senior Rate for Genealogists now available-