When the Indians were Removed from Georgia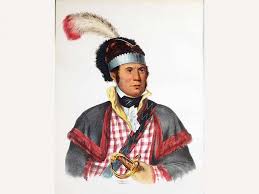 During 1818 the Creeks conceded land from the mountains of Habersham County to Albany to the United States. This represents a landmark period for genealogists as to the departure of the Creeks from Georgia. To this end,
the 1833 Creek Census (Lower Creeks and Upper Creeks)are available on Georgia Pioneers
Also, lists of Colonial Indian Traders. The land included all of Butts County except the Indian Springs Reserve. At the time, the Ocmulgee Reserve remained in possession of the Creek Nation. As a result, some of the old families in the vicinity have Creek ancestors. Apparently, many mixed blood Creeks elected to take state citizenship in order to continue living near the sacred site of Indian Springs. For example, Mikko William McIntosh, who served as a Brigadier General during the War of 1812 and the Creek Civil War (known as the Red Stick War) built a home there and began developing a plantation.
Find your Ancestors in Alabama, Georgia, Kentucky, North Carolina, South Carolina, Tennessee and Virginia
New Additions:
Butts County Georgia Genealogy Resources