Things we did not tell our Parents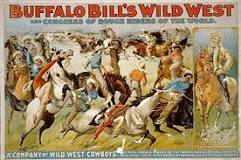 Since my sisters walked everywhere as children, one afternoon we discovered an old railroad track and followed it some distance. Eventually, a freight train rattled along and we easily jumped aboard. To our delight, the spur ended in Piedmont Park! Oh delicious! We walked on a historical terrain that day, because it was the spot where Buffalo Bill had brought his Show to Atlanta! William Frederick Cody lived the life of an adventurer, he was a showman, a scout and a hunter of bison. He died 1917 in Denver and was buried atop Lookout Mountain.
more about the 1940s....
Find your Ancestors in Alabama, Georgia, Kentucky, North Carolina, South Carolina, Tennessee and Virginia, Subscribe for 1-year
Subscribe for 6 months
Hope that you join the "Genealogy History" blog and leave your comments to help others searching for their ancestors. https://genealogyhistory.blogspot.com