Quarantines in the Old Neighborhood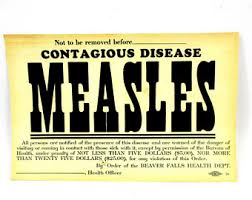 During the 1940s, when scarlet fever or measles struck, a quarantine sign was tacked on the front door. It was a warning tacked on the door by the communicable disease people not to go inside the house. Scarlet fever could last as long as a month, and it called for bed confinement for the duration of the illness. When a child was attacked by German measles (rubella) , the neighbors were in a tizzy because it spread easily and was very contagious.
more about the 1940s....
Find your Ancestors in Alabama, Georgia, Kentucky, North Carolina, South Carolina, Tennessee and Virginia, Subscribe for 1-year
Subscribe for 6 months
Hope that you join the "Genealogy History" blog and leave your comments to help others searching for their ancestors. https://genealogyhistory.blogspot.com