Indian Legends which "Live On"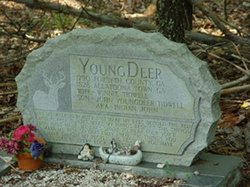 Grave of Young Deer
However, there are some legends which live on, such as " Youngdeer " of Forsyth County. John Tidwell is believed to have been a full-blooded Cherokee who resided in North Georgia, around Paulding County. He was married to a white woman, Winnafred (Winnie) Tidwell. Their union produced a son, Indian John Tidwell. He died near Allatoona in Bartow County, Georgia after being shot by an unknown killer. The stone contains the prayer - " Let me walk in beauty and make my eyes behold the red and purple sunset". Many descendants of John Tidwell applied for money from the U. S. Court of Claims (1906-1910), claiming that John Tidwell was a Cherokee Indian, the son of Youngdeer, and that he went west ca 1835 to the reservation in Arkansas, but later returned to Georgia. All of their applications were rejected because of inconsistencies.
Native American Records are available to members of Georgia Pioneers
Comments are welcome..
Find your Ancestors in Alabama, Georgia, Kentucky, North Carolina, South Carolina, Tennessee and Virginia