Kelvin Grove House on St. Simon's Island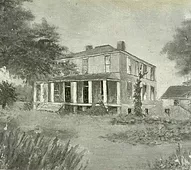 The Kelvin Grove property was purchased by Thomas Cater of Liberty County in 1798 from John Titus Morgan. It may have originally been part of the estate of the daughter of William McIntosh, Margery, who married James Spalding. Today the US Coast Guard Station sits upon the original Kelvin Grove land as well as the King and Prince Hotel. Source: Kelvin Grove Plantation 1736-1986 by Huie, Murphy, Wilcox (1986).
Comments are welcome..
Find your Ancestors in Alabama, Georgia, Kentucky, North Carolina, South Carolina, Tennessee and Virginia