Military Road on St. Simons Island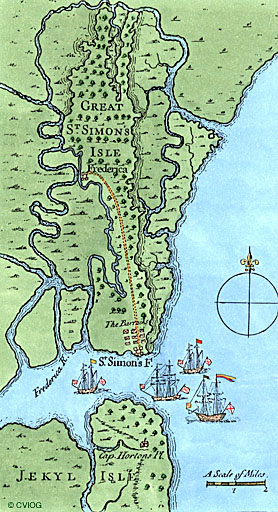 General Oglethorpe established a fort on the northern part of the island in 1738 and a smaller fort on the southern tip where the lighthouse was later built which was adjoined by Military Road. The Colonial Records of Georgia by Candler describes this road as being due east and crossing Gully Hole Creek at its narrowest point. A personal visit to this area suggests that this may have been the entrance through a stockade fence leading inside the town. There are cement several graves rising above the ground. Although the inscriptions are no longer discernible, the fact is (according to Candler) there were deaths occurring as early as 1741. After crossing Gully Hole Creek and the marsh, the road swung to the southeast, crossing the present (Frederica) Road to the south end just north of Obligation Pond which touched the eastern shore of St. St. Simons where the present settlement of Harrington is located. From this point, it followed the edge of the marsh to the site of the Battle of Bloody Marsh.
"The inhabitants of the Town went out on the 25th September 1738 with the General and cut a road through the woods down to the Soldiers Fort (Fort St. Simons) in a straight line, so that there is open communication from thence; they performed this work in three days, tho' it is near 6 miles through thick woods." Source: Gentlemen's Magazine (London) January 1839. Very little of the original road remains today.
Comments are welcome..
Find your Ancestors in Alabama, Georgia, Kentucky, North Carolina, South Carolina, Tennessee and Virginia