Campbell County Genealogy, Wills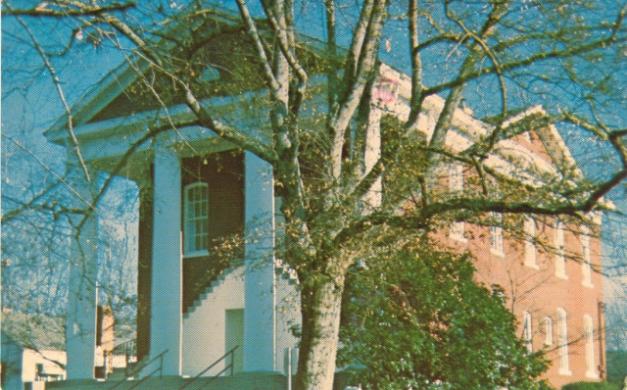 Campbell County was formed by an act of the Georgia Legislature December 20, 1828 taking land from Carroll, Coweta, DeKalb, and Fayette Counties. During 1832 land from the Cherokee Land Lottery was added, for a total to about 192 square miles. On October 17, 1870 the land lying north of the river was taken along with some of eastern Carroll to form what is now Douglas County. The rest merged with Fulton on January 1, 1932. Campbell County was named in honor of Colonel Duncan G. Campbell. He and James Meriwether negotiated the Indian Springs Treaty in which the Creek Indian land was ceded on February 12, 1825. The County seat was Campbellton until 1870. It was then moved to Fairburn where it remained for the life of the county. The county existed from 1828 to 1931 when it was finally merged into Fulton County.
Campbell County Records Available to Members of Georgia Pioneers
Online Images of Campbell County Wills 1833 to 1862
Testators: Abercrombie, Joseph;Barge, Richmond;Beavers, William;Black, Thomas;Bomar, Armsted;Bomar, William; Brazeal, Britton; Brock, John; Camp, Alfred; Camp, Joseph; Camp, Thomas; Childs, Sarah; Clackler, Henry; Clinton, John; Clinton, William; Coryell, Thomas;Darnell, David;Davenport, Dicey;Demoney, John; Dillon, Thomas;Doggett, Thomas;Duggan, Jesse;Dunlap, James;English, William;Faulkner, Peter;Gentry, John;Gibson, Clary;Head, Benjamin;Heath, Ebenetus;Hinton, Jacob;Hobgood, Lewis;Howell, Joseph;James, Stephen Sr.; Jones, James;Kolb, Martin;Little, John;Longino, Ruth;Mayfield, Jacob;McClarty, John;McKoy, James;McKoy, Thomas;Menefee, Willis;Miller, Jacob; Miller, Robert;Morgan, Willis;Parker, John;Paulett, Richard; Phillips, Levi;Rainey, Thomas;Redwine, John;Roberts, Grant; Roberts, Wiley;Rowen, Hugh;Rutledge, Albert;Smart, Elisha; Smith, Sarah;Strawn, Absalom;Thompson, Edmund;Tomberlin, John; Whitten, Gideon;Wilkerson, Robert;Wilson, John;Winn, Francis; Wynn, John;Yarbrough, Joshua
Campbell County Will Abstracts (1831-1908)
Indexes to Probate Records
Index to Annual Returns Book B 1843 to 1851
Index to Annual Returns Book D 1854 to 1858
Index to Will Book B 1863 to 1922
Index to Will Book C 1923 to 1933
Comments are welcome..
Find your Ancestors in Alabama, Georgia, Kentucky, North Carolina, South Carolina, Tennessee and Virginia