Fleming County Genealogy, Wills, Estates, Distributions, Inventories, Guardianships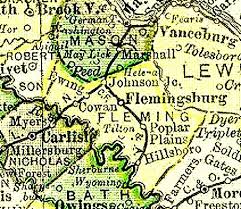 Fleming County was founded in 1798 and named after Colonel John Fleming, an Indian fighter and early settler to Kentucky. The land was taken from Mason County. The county seat is Flemingsburg and the first court house was constructed with logs.
Indexes to Wills, Estates, Guardianships, Distributions
Book A, 1798 to 1815
Book B, 1816 to 1822
Book C, 1823 to 1829
Book D, 1829 to 1834
Images of Fleming County Wills and Estates, Book A, 1798 to 1816
Alexander, William* Armstrong, Robert* Axley, Ely Baker, Charlies* Barnes, Joshua* Barnes, Samuel* Bateman, Thomas* Bazle, William* Beard, Philip* Bell, Benjamin D.* Bell, M.* Benham, Amariah* Bennington, William* Bevins, Sally* Brevard, Adam* Brevard, William* Bridges, Dillen* Bright, Edward* Brown, D. G.* Brown, James* Brown, Manly* Brown, John* Brown, M.* Burke, William* Burrington, William* Butler, Thomas* Carter, James* Carter, Thomas* Chapman, Nathan Chapman, William* Clare, Andrew* Clarke, Thomas* Cobyn, Benjamin* Collins, James* Collins, John* Constant, John* Cornwall, Thomas* Cothran, Robert* Cotteman, John* Curry, Susanna* Dale, James* Davis, John* Dawkins, Thomas* Denard, Margaret* Dickson, James* Donevan, Philip* Dudley, William* Dudley, Will* Dunbar, Alexander* Dunbar, James* Duncan, William* Elijah, Moses* Emmers, James* Evans, Esbert* Evans, Isaac* Evans, Robert* Faris, William* Farrow, Thornton Ferguson, John* Ferguson, Joseph* Finney, Thomas* Fix, Stephen* Floyd, Thomas* Fuller, George* Fulton, orphans* Furlow, Robert* Furr, Edwin Gallagher, John* Goddard, John* Gooding, Abraham* Gooding, John* Gore, Andrew* Gordon, James* Gray, David* Gray, Isaac* Green, John Bishop* Green, Richard* Gully, Thomas* Hambuck, William* Hamm, Joseph* Hannock, John* Harper, William* Harvey, William* Hillecoes, Jacob* Hillison, George* Hinton more
Comments are welcome..
Find your Ancestors in Alabama, Georgia, Kentucky, North Carolina, South Carolina, Tennessee and Virginia