Floyd County Wills, Estates, Inventories, Distributions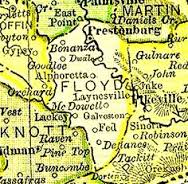 Floyd County was formed iin 1800 and named for Colonel John Floyd. The County Seat is Prestonburg.
Indexes to Wills, Estates, Inventories, Distributions
Book A, 1866 to 1931
Book B, 1931 to 1969
Book C, 1969 to 1979
Book D, 1979 to 1981
Images of Floyd County Wills and Estates, Books A & B, 1866 to 1958
Testators:
Akers, G. W.* Akers, Preston* Akins, William* Allen, Annie* Allen, Bertha* Allen, Blucher* Allen, C. L.* Allen, David Murphey Sr.* Allen, David Murphy and Rebecca Gearheart* Allen, Della* Allen, Dells* Allen, Edward* L.* Archer, Emma* J.* Allen, Eula* Allen, Felix G.* Allen, J. N.* Allen, John R.* Allen, Rebecca* Allen, Rebecca (2)* Allen, William* Alley, J. W.* Archer, Marie Minks* Arney, Mollie* Arnold, E. P.* Aukier, Hollie Friend* Auxier, James Robert Auxier, John C. B.* Bailey, J. C.* Baile, Malissie* Baker, Benjamin* Baldridge, Ellen* Barnett, Nora E.Bartley, J. A.* Bell, Armina* Bender, William E.* Bentley, George W.* Bentley, Margaret Ann* Blackburn, Elizabeth* Blackburn, Fred Sr. Blackburn, Levi* Blackburn, Sally Blackburn, Thomas* Blackburn, Thomas (2)* Bond, Charles F.* Bond, Cordelia M.* Bouchett, T. O.* Boughton, M. C.* Bradley, B.* Branman, Sallie* Bull, Melvine* Burchett, Jesse* Burchett, J. W.* Burchett, Millie* Burchett, William G.* Bush, Melvin T.* Bush, Minnie J.* Busk, Mary* Calhoun, Hiram* Callihan, G. D.* Cecil, Thomas* Clark, Cal* Clark, Hettie* Clark, Lawton E.* Clark, L. D.* Click, Cynthia Jane* Cline, Roscoe* Cogburn, Ossie* Cole, Malcom* Collins, Anna* Collins, Irvin* Collins, Justus* Collins, William* Combs, Albert G.* Combs, B. F.* Conn, Hiram Sr.* Cooley, Harry M.* Cortley, George W.* Cottrell, Fred H
more names
Comments are welcome..
Find your Ancestors in Alabama, Georgia, Kentucky, North Carolina, South Carolina, Tennessee and Virginia