Platform Mounds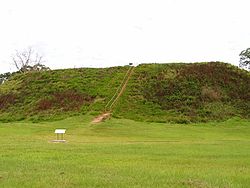 The Kolomoki Indian Mounds in Early County, Georgia along the Chattahoochee River is an excellent example of what a Platform Mound looks like. But one has to imagine that it was enclosed by a palisade fence and surrounded by a large plaza and villages. The earthen works are part of the Kolomoki State Park.
The Avery and Potts Indian Mounds at Helen, Georgia (Troup County).
There was once an archaeological site in Troup County, east of the Chattahoochee River. Harold Huscher began a small investigation in 1966, which led to more excavations during 1967 and 1968. The site once consisted of two platform mounds. A platform mound is any earthwork or mound intended to support a structure or activity. The Avery Mound was eroded by cultivation and weathering, but sufficient evidence remained. To the south of the Avery Mound, was the Potts Mound which still contained some evidence despite the fact that the field had been bulldozed for field leveling. The mounds were surrounded by a large village area, dispersed with pottery remains. Also, a 300=foot palisade line was found running along one side of the Avery Mound which revealed a carefully constructed fortification structure. The evidence of a large (burned) rectangular building with an octagonal roofing frame was found on the north margin of the Avery Mound.
Sixtoe Indian Mound Excavated in Murray County From 1962 to 1865 this archaeological site was excavated by Arthur Randolph Kelly as part of the Carters Dam project. The site had one low platform mound with a surrounding village, which went unexcavated.

Rock Eagle Effigy Mound in Putnam County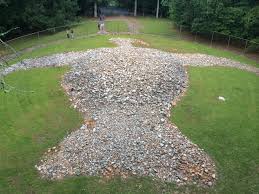 This earthen work was built ca 1000 BC to AD 1000, and was made of thousands of pieces of quartzite land in the mounded shape of a large bird. The vision is often referred to as an "eagle".
Names of Troup County Ancestors
Comments are welcome..
Find your Ancestors in Alabama, Georgia, Kentucky, North Carolina, South Carolina, Tennessee and Virginia