Rats are Deadly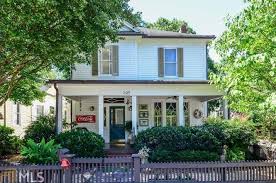 My great-grandmother, Jane Smith (above) was a Seventh-Day Adventist whose faith did not to believe in receiving medical care. She raised seven children. During the 1940s, however, the family was stuck down with typhoid fever. They resided together in the old neighborhood of Grant Park (Atlanta) at 137 Sydney Street (home torn down) in the typical house with high ceilings and one bathroom. The heat was provided by fireplaces and coal brought up from the cellar to fire an old furnace. In those days, flea and tick-carrying rats could easily enter the cellar and plague family members. Typus epidemics were not unusual. In fact, during Napoleon's retreat from Moscow in 1812, more French soldiers died of typus than were killed by the Russians. A major epidemic was disastrous to the Irish when over 100,000 people died between 1815 and 1819. It raged throughout the Civil War and after wards. Things got bad. The children were critically ill. The mother brought in a physician to treat the children. But she did not take the medicine for herself, so died.
Footnote: According to wikipedia, rats in New York are widespread today and thrive in densely populated areas. These brown rats (from Norway) carry pathogens which cause diarrhea, vomiting and fever, and carry fleas which are vectors to bubonic plague, typhus and spotted fever, as a starter.
Comments are welcome..
Find your Ancestors in Alabama, Georgia, Kentucky, North Carolina, South Carolina, Tennessee and Virginia