Famous "Light Horse Harry" Lee Died at Dungeness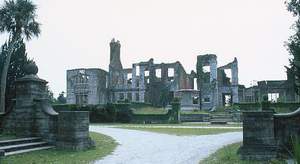 Lee was known for his equestrian skills for which he earned the sobriquet of "Light-Horse Harry" . On September 22, 1779 the Continental Congress voted to present Lee with a gold medal; a reward not presented to any other officer below the rank of general. It was given for the action of Lee Legion during the Battle of Paulus Hook in New Jersey, on August 19 of that year. Lee was promoted to Lieutenant Colonel and was assigned with his Legion to the Southern Campaign. During January of 1781, his Legion proceeded to raid the British outpost of Georgetown, South Carolina with General Francis Marion. Then, Lee joined with General Francis Marion and General Andrew Pickens in the spring of 1781 to capture numerous British outposts in South Carolina and Georgia including Fort Watson, Fort Motte,
... more ...
Comments are welcome..
Find your Ancestors in Alabama, Georgia, Kentucky, North Carolina, South Carolina, Tennessee and Virginia