Laurens County Probate Records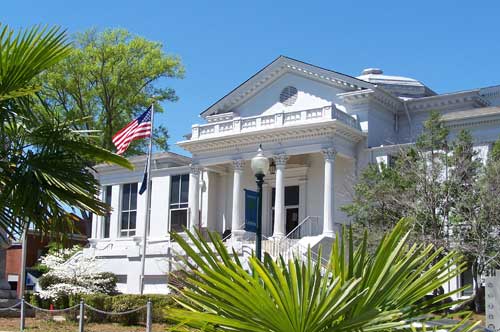 Laurens County was established in 1785 as part of the Ninety Six District. It was named for Revolutionary War leader Henry Laurens (1724-1792). Settlers were Scotch-Irish and English immigrants who came in the early eighteenth century. When Revolutionary War battles such as the battle of Musgroves Mill on August 18 of 1780 were fought in the county, it was discovered that many of its residents were loyalists.
Early Settlers: McCain, Drew, Kellett, Miller, Millwee, Hellans, Allison, Prather, McNight, Logan, Cunningham, Ferguson, Adair, Baugh, Lewis, Starnes, Musgrove, Fowler, Arnall, Armstrong, Walker, Akins, Fowler, Garner, Dunlap, Simmons, Bailey, Griffin, Montgomery, Mahaffy, Coker, McCrary, Green, East, Crage, Stevens, Johnson, Goodman, Pollock, Garrot, Holcomb, Day and Middleton.
Laurens County Wills and Estates Available to Members of South Carolina Pioneers
Abstracts of Last Wills and Testaments
Laurens County Will Book A (1787-1789), abstracts
Laurens County Will Book C (1797-1807), abstracts
Laurens County Will Book D (1799-1817), abstracts
Laurens County Will Book E (1819-1825), abstracts
Index to Laurens County Will Book A (1766-1802)
Index to Laurens County Will Book F (1826-1834)
Digital Images of Wills, Book E, 1836-1839
Names of Testators: Allen, Sally ; Anderson, David ; Beal, Even ; Bell, David ; Blakely, James ; Calhoun, John ; Cheek, Ellis ; Cole, Mary ; Cummings, John ; Dunlap, Matthew ; Goodwin, William ; Hamilton, Jane ; Jones, Edward ; Leek, Bryant ; Leeman, Hugh ; McClintock, Martha ; McCoy, John ; McMeese, Robert ; Middlesperger, Abraham ; Pool, James ; Poole, Seth ; Potts, William ; Reece, William ; Robeson, Bennet ; Simpson, Sarah; Swan, Rebecca ; Wait, John ; Watson, Elijah
... more names...
Comments are welcome..
Find your Ancestors in Alabama, Georgia, Kentucky, North Carolina, South Carolina, Tennessee and Virginia