Nelson County Jail House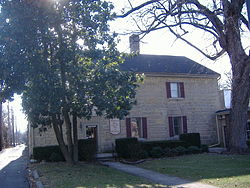 The old Nelson County Jail is located in the Bardstown Historic District in Bardstown, Kentucky, adjacent to the Old Talbott Tavern. The old jail was originally built in 1819 and a later addition built in 1874. It has two stories, three bays and an attic, with a total land area of 36 feet by 56 feet. The stones of the main building is of laurel dolomite, and are 30 inches thick. The roof is gabled. During 1874, the constructed addition behind the mail building was made of dry stone and served as the residence of the jailer.
Comments are welcome..
---
---
Genealogy Records in Alabama, Georgia, Kentucky, North Carolina, South Carolina, Tennessee and Virginia
---
---