Where to Find Lunacy and Orphans Records
Five years after Georgia lawmakers authorized an asylum for lunatic, idiots and epileptic Georgians, the facility opened. During those years, Milledgeville was an agricultural town of cotton producing farms and plantations. The first patient was Tillman B. of Bibb County who was incarcerated in December of 1842 but who died the next summer of "maniacal exhaustion." The facility housed 13,000 patients during its peak years until it was the largest insane asylum in the world. During its years of operation, doctors performed lobotomies, insulin shock and electroshock therapy. Children were confined inside of metal cages while adults were forced to take steam baths and cold showers, confined in straitjackets, and treated with douches or "nauseants." It was the social experimental product of its times. In 1959, a reporter for the the Atlanta Constitution investigated reports of a "snake pit." The discovery revealed that thousands of patients were served by only 48 doctors, none of whom were psychiatrists. He also reported that certain of the doctors had been hired off the mental wards. Yes, the patients were helping to run the asylum. The series rocked the state. Asylum staff were fired, and Mr. Nelson won a Pulitzer prize. The state, which had ignored decades of pleas from hospital superintendents, began to provide additional funding. However, during the mid-1960s when new psychiatric drugs allowed patients to move within less restrictive settings, the population began to decline. Governors Carl Sanders and Jimmy Carter both commenced emptying Central State, instead, sending mental patients to regional hospitals and community clinics, and people with developmental disabilities to small group homes. This did not work. Today, mental patients have become the scum of the earth, dosing on all manner of dangerous drugs and living on the streets in Georgia. Owing to the fact that the records are secret, the genealogist might begin a tedious search for information. I shall tell you where to search. Newspapers published information concerning orphans and lunatics taken off the street and placed in the institution as well as the news of the court hearing. Hearings were heard in the court and the notice appeared on the court calendar.
Georgia Pioneers
has scanned many old newspapers and added the information to a database. Members, click on
Lunatics
. While searching, peruse the neighborhood columns, society pages, and even front pages, as the article could appear anywhere throughout the newspaper.
Morgue Drawers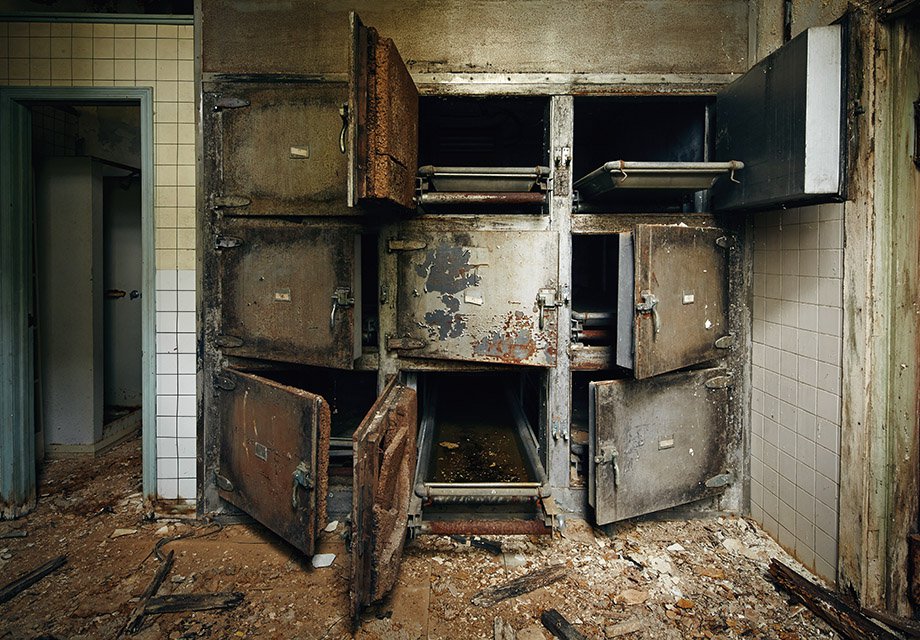 Morgue drawers sealed with iron doors once held the corpses of patients in the basement of the Jones Building. Today the building is collapsing from the top down, and falling debris covers the morgue floor.
Comments are welcome..
---
---
Genealogy Records in Alabama, Georgia, Kentucky, North Carolina, South Carolina, Tennessee and Virginia
---
---