Clarke County Wills, Estates, Marriages, Newspapers, Tax Digests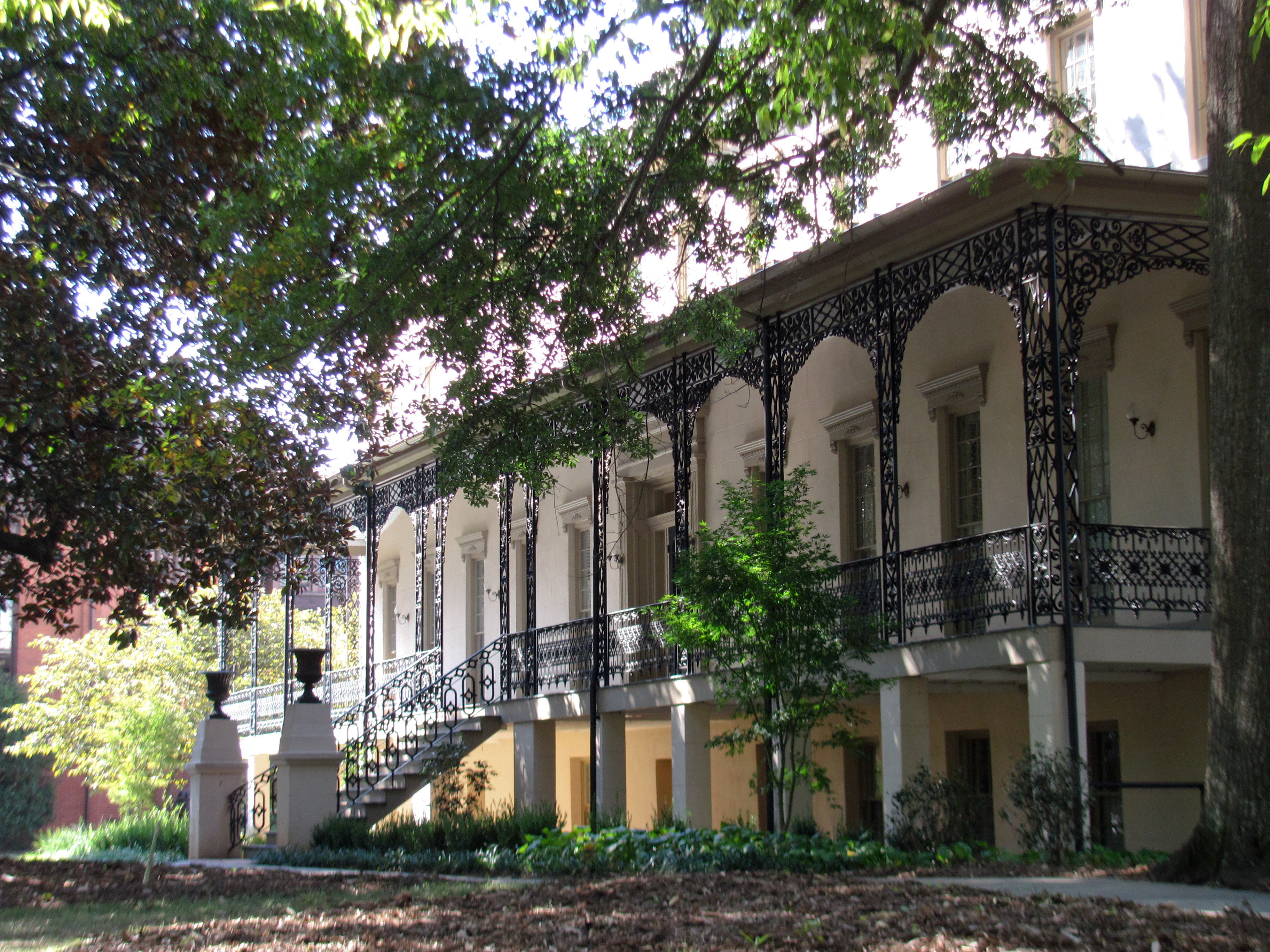 Lucy Cobb Institute, Athens, Georgia, founded ca 1859 by Thomas R. Cobb. Clarke County was established in 1801; named for General Elijah Clarke of Revolutionary War fame. A year after cession of the land which became Clarke County from the Cherokee Indians in 1783, the State endowed the future University of Georgia with 40,000 acres of land near an old trading path. The old school pre-dates the Revolutionary War but was not created by the Georgia legislature until 1785.Abraham Baldwin was chosen as president. The school actually began the same year as the county, 1801, with the purchase of land for a campus. At this time the surrounding town of Athens had not been formed and would not be formed until the first class graduated in 1804. Among the earliest students were men who would shape the future of the state before, after and during the Civil War. Crawford W. Long, medical pioneer, Alexander "Little Alex" Stephens, who became Vice President of the Confederate State of America, and Howell Cobb, Speaker of the House and candidate for President of the United States, were but a few of the famous names associated with the school. Early Clarke County Settlers: William Shaw, Joseph Clarkson, Joseph Kramer, William Echols, Richard Lewis, Richard Cole, Absalom Echols, Joshua Baker, Bussel Brown, Jeremiah Melton, Wyley Roberts, James Hayes, William Daniel, Edward Hagin, Samuel Jackson, Clark Hudson, George Evans, Levin Hudson, Wootson Allen, Joseph Henderson, John Dorman, Peter Calaway, Edward Moor, James Downs, Jonathan Hightower, James Keeth, Isaac Downs, David McCulloch, James Naull, Gabriel Hubbard, John Burnett, James Gilmore, David Duke, Harry Mitchel, Drewry Brewer, Henry Grier, and others.
Probate Records Available to Members of Georgia Pioneers
Abstracts of Wills
Online Images of Wills and Estates 1842 to 1859
Names: Akeridge, Ezekiel,Barber, James,Baxter, Thomas,Beardin, Aaron, Branch, Dicey,Burnett, Caroline,Camak, James,Carter, William,Cros, Aaron,Daniell, Josiah,Edwards, Solomon,Espy, John,Greer, Thomas, Hales, Willis,Huff, Henry,Jackson, Stephen,Jennings, James,Jones, William,King, Sarah,Mayne, John,Newton, Catharine,Oliver, John Sr., Payne, Edward,Pittard, Humphrey,Pope, Mary,Price, Elizabeth,Stroud, Martha,Tinney, Elizabeth,Wells, Sarah,Williams, William,Williamson, Sarah.
Online Images of Wills 1859 to 1885
Names: Bauer, William ; Baxter, Mary ; Biggane, Lucy ; Billups, John ; Bishop, Edward;; Bishop, Thomas ; Bradford, Mary ; Branch, James ; Brown, Dolly ; Burnett, Mary ; Chancey, John ; Chase, Allen ; Church, M.; Cobb, Lucy ; Conger, Abijah; Cook, Zadock; Cox, Elizabeth ; Crawford, Julia; Crawford, Susan; Crawford, Susannah ; Crawford, Thomas; Daniell, Francis Marion; Darsey, William ; Darcey, James; Davenport, Henry; Dean, John; Delany, Henry; Delany, William ; Doster, Francis ; Dupree, Lucy ; Edwards, Henry ; Edwards, Richard ; Epps, William ; Fambrough, John; Fellows, George; Fellows, Mary; Gober, William ; Gober, Wesley; Goff, Nancy; Golding, Susan ; Gorly, Mary; Gray, Jeremiah ; Greer, Corporal ; Griffith, John; Hall, Asbury ; Hamilton, Sarah ; Hardiman, Benjamin; Harper, Anselm ; Harris, James ; Harris, John; Harris, Martin ; Harris, Paulina ; Harris, Sarah; Hellbrook, Nathan ; Henderson, Matthew ; Henry, Elizabeth ; Hoyt, Nathan; Hudson, George; Hull, Henry; Hutchinson, Peter; Jackson, Hillman ; Jackson, John; Jenkins, James; Jennings, Giles; Jennings, Henry ; Jennings, James ; Johnson, John Calvin ; Keisler, Hugh; Kittle, William ; Klutts, Jacob; Lampkin, Henry ; Leam, William; Lee, Judith ; Ligers, Caesr; Lowe, John H. ; Lumpkin, Edward ; Lumpkin, Frank; Lumpkin, Samuel ; Macey, Albert ; Malin, Phoebe; Marks, Thomas; Matthews, Martha; Kinney, Alfred ; Mitchell, Giles; Mitchell, J. W. ; Mitchell, William ; Moore, Eleanore ; Moore, Thomas; Morton, Joseph ; Moss, John ; Moss, Thomas; Muker, Christopher ; Mygatt, George; Nance, John ; Newton, Eliza ; Osborn, John; Paine, Seaborne (colored) ; Pelleford, Louis ; Reese, Charles ; Ramsey, Bolitha E. ; Savage, Susan ; Sikes, Zechariah; Smith, Robert; Sparks, Ann; Sparks, Thomas ; Stephenson, Henry; Stovall, Pleasant; Stroud, Mark; Stroud, William ; Tayler, Michael ; Taylor, Robert; Thomas, William ; Thompson, Middleton; Thrasher, Burton; Vickers, Joshua; Vincent, Isaac ; Wade, Thomas ; Wane, Edward ; Ward, Matthew A. ; Wells, Mary; White, John ; White, William; Williams, Mary; Witherspoon, Elizabeth; Woodson, Alexander ; Wray, Thomas ; Yerby, Burnell ; Zach, Silas
Online Images of Estates 1827 to 1835
Names: Beal, Zephaniah; Beardin, Richard; Bonner, Allen ;Bostick, Rebecca; Broadnax, William; Cheatham, Anthony; Chislom, Appleton ; Crowe, Stephen ; Doran, Andrew; Daugherty, Rebecca; Duke, Beverley; Early, Rhoda ; Easley, Roderick ; Foster, John ; Fulton, Margaret; Garner, Joel; Gordon, Robert ; Gourley, Jonathan ; Graham, Andrew ; Harper, John; Harris, Jeremiah ; Harris, Thomas ; Hester, Stephen ; Hill, Isaac; Holder, John ; Holt, Cicero; Huff, Wiley; Humphreys, Uriah; Irwin, James ; James, Henry; Langford, James ; Lumpkin, George; May, Levi ; Mayfield, Thomas; Maxey, Edward, orphans of ; McCollough, William; Mitchell, William ; Moore, Francis ; Moore, Robert; Nisbet, James ; Nunnally, John ; Parton, Vernia ; Phinizy, Marcus; Pittard, Samuel ; Price, William ; Puryear, Peter, orphans of ; Ransom, Reuben; Richardson, John, orphan of Dave; Sibbald, Jane ; Smith, Mary A.; Starkes, Philip, orphans of ; Strickland, John ; Tarpley, Joseph ; Thomas, John ; Thomas, Levin ; Trammell, Robert ; Watts, Samuel ; Whitton, John ; Williamson, Ann; Williby, Elijah ; Wise, Patterson; Wooldridge, orphans; Wright, John
Online Images of Estates Book G, 1835 to 1845
Testators: Beal, Zephaniah; Boram, George W.; Bostick, Rebekah, Mrs.; Brightwell, John; Cheatham, Anthony; Chester, Stephen; Conger, Hedges; Croxton, James; Dalton, Lewis; Elder, Sterling and Howell; Flournoy, Elizabeth, orphan; Flournoy, Howell, orphan of; Hodges, James, orphans of; Holt, Cicero; Lamar, Zachariah; Lee, John; Ligon, Robert; Maddox, Joseph; Mann, Jonathan, orphans of; Meriwether orphans; Merritt, Berryman G.; Moore, William; Nisbet, Penelope, Mrs.; Osborn, John; Phinizy, Marco, orphans of; Pinson, Thomas; Pressley, Samuel P.; Preston, William; Puryear, John; Puryear, Peter, orphan; Reynolds, Patrick; Robertson, Fryar; Robinson, James; Sheats, Nicholas; Sibbald, Jane, Mrs.; Simonton, Theopholis;Stephens, David; Sturgis, Henry; Taylor, Sarah Ann, orphan; Thomas, Drury; Thompson, Thomas B.; Tindall, William; Whitlow, John Sr.; Williams, Joel, orphans of; Williby, Robert; Williby, William; Winstead, Alexander
Indexes to Probate Records
Index to Will Book A, 1803-1822.
Index to Will Book B, 1822-1842.
Index to Will Book C, 1842-1859.
Index to Will Book D, 1859-1885.
Index to Will Book E, 1885-1911.
Index to Clarke County Ordinary Records, estates (no date).
Index to Unbound Estates, 1797-1949.
Index to Mixed Estates, 1799-1819. < li>Index to Mixed Estates, 1807-1818.
Index to Mixed Estates, 1815-1827.
Index to Mixed Estates, 1827-1830.
Mixed Estates, Book E (1827-1830)
Mixed Estates, Book F (1835-1845)
Mixed Estates (1837-1847)
Mixed Estates (1842-1867)
Deed Book A, 1802-1804.
Miscellaneous
Deed, Dearing to Nesbit
Finch, William, LWT (1811).
Hagin, Edward, Appraisement, Sale, etc. (1805), Bk 1799-1819, pp. 373-377.
Hagin, Edward, deed (1802).
James Hagins, Estate.
Marriages 1807 to 1820
Marriage Index 1805-1821
Marriage Index 1815-1821
Marriage Licenses Index 1821 to 1838
Marriage Licenses Index 1838 to 1867
Marriages from newspapers 1885-1886
Tax Digests (digital images)
Traced Genealogies of Clarke County Families
Barber; Barwick;Clarke ;Day ;Ernest ;Freeman ;Hagin ;Humphreys ;Hunnicutt ;Jackson ;Parr ;Sledge ;Strong ;Thomas White
Comments are welcome..
---
---
Genealogy Records in Alabama, Georgia, Kentucky, North Carolina, South Carolina, Tennessee and Virginia
---
---