Online Cobb County Wills, Estates, Marriages, Divorces, Minute Books, Military, Newspapers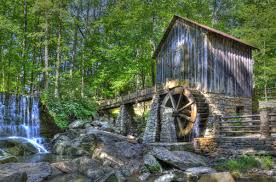 Cobb County was formed in 1832 from Cherokee County and named in honor of Thomas Willis Cobb, U.S. representative, U. S.Senator and Supreme Court Judge who subsequently named the the city of Marietta after his wife. For a number of years white traders settlers encroached on Indian lands. Upon the signing of the 1832 Treaty to remove the Cherokees, settlers flooded the territory. The Cherokees were farmers and not surprisingly, not all Cherokees emigrated to Oklahoma and Kansas. Some of them obtained permission to remain in Cobb County which is reflected in the Dawes Rolls when people from Cobb, Forsyth, Lumpkin and Gilmer Counties made application before the Dawes Commission to prove Indian ancestry. Such proof was necessary in order to obtain free land in Oklahoma. Indian trails ran from the Alabama Road North through Bartow County and across the "Shallow Ford" in the Chattahoochee. The Second Georgia Land Lottery of 1832 parceled out land to settlement and the first towns of Marietta, Sweet Water, Buffalo Fish and Big Shanty. Big Shanty is remembered for sheltering Atlantans during the Battle of Atlanta which made the mad rush by railroad before General Sherman took the city. The railroad started its construction in 1836 when the State of Georgia began purchasing the right-of-way to build from the Tennessee River to the Chattahoochee River. In 1845 track was laid from Marthasville to Marietta with a stop over for water at Moon's Station in Kennesaw. During the War Between the States the earliest court house records were torched by Sherman. Earliest settlers were: Cloud, Lemon, Collins, Guess, King, etc.
NOTE: The Cobb County records have not been microfilmed and are not found at the Georgia State Archives.
Probate Records Available to Members of Georgia Pioneers
Marriages
Marriages 1865-1937, Groom Names A to Z
Marriages 1869-1886, from newspapers
Divorces 1885-1886 from newspapers
Online Images of Wills 1857-1904
Adams, Hiram M.;Alexander, John Y.; Alexander, Peter W.; Alexander, Robert G.; Allen, Ransom A.; Allgood, John W.; Anderson, Charles H.; Anderson, Henry S.; Anderson, Henry S.; Anderson, William P.; Armstrong, William; Atkins, Emeret; Austin, William A.; Avery, George S.; Awtrey, Merrill C.; Awtry, Sarah; Baggett, Burton; Bagwell, John B.; Baker, Francis J.; Barrett. Charles; Barrett, John; Baswell, William P.; Bates, Mathias; Bellenger, John; Bennett, John H;. Bingham, S. A.; Bolan, Matilda C.; Bonner, Claborn; Boyd, David; Boyd, Robert M.; Bradley, Gordon M.; Branan, Sarah; Brinkley, Emeline F.; Brockman, John B.; Brockman, John B.; Brown, Absalom; Brown, James R; Brown, James Welsman; Brown, Silas; Bullard, Robert L;. Buttolph, Wallace S.; Bunn, Marcus; Burnap, Gaines C.; Bush, Asa; Byrd, Sarah N.; Cargile, James; Carrie, Gaspard T.; Chastain, Sarah C;. Chastain, Sarah C.; Cheney, Andrew J.; Cheney, W. S.; Clark, Jane; Clarke, Susan Stone; Clay, Thomas C;. Cochran, S. R.; Cole, Henry G.; Cook, Francis; Cooke, N. M.; Cortelyon, Peter R.; Couper, Hannah Page; Cowen, Stephen D.; Crockett, M. Ella; Crosby, Charles M.; Covington, W. H.; Cumming, William Henry; Curry, Rebecca; Daniell, Robert; Darby, John; Darby, Mary Francis; Davis, Gary; Delk, Jackson; Delk, W. J.; Dempsey, Lazarus; ... more names ...
Comments are welcome..
---
---
Genealogy Records in Alabama, Georgia, Kentucky, North Carolina, South Carolina, Tennessee and Virginia
---
---