Madison County Wills, Estates, Inventories, Guardianships, Sales available to Members of Kentucky Pioneers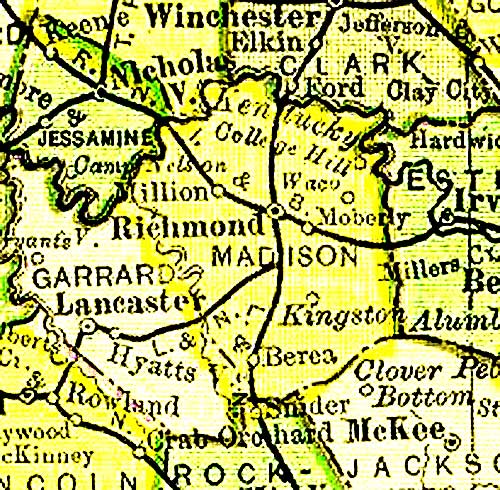 In 1769, a hunting expedition by Indian trader John Findley, Daniel Boone and four others first visited the area that is Madison County. Later on, in 1775, The Transylvania Company led by Judge Richard Henderson of North Carolina purchased 20,000,000 acres of land west of the Appalachians from the Cherokee Indians in 1774. Then, Daniel Boone was hired to cut a trail through the Cumberland Gap and establish the settlement of Fort Boonesborough on the Kentucky River. Ten years later Madison County was established from Lincoln County lands.
Book A1, 1786 to 1806
*Alford, John *Allcorn, Robert *Allen, Cary H. *Anderson, John *Anderson, Samuel *Black, James *Blackwell, Armistead *Blackwell, Sarah *Blockley, John *Blythe, William *Bowles, Hugh *Bowman, John *Bramwell, Joseph *Bridges, George *Broadus, William *Broadus, William M. *Brown, John *Burgin, Isaac *Burgin, Jesse *Burnet, Roland *Campbell, Thomas *Carpenter, Edward *Carpenter, John *Carrich, William *Chaffey, Charles *Chizum, James *Clark, James *Clark, Jesse *Cockran, James *Coffey, N. *Corlen, Belford *Coulter, James *Creath, William *Cullen, James *Dever, William *Diver, Dennis *Donaldson, Andrew *Dozier, James *Dryden, William *Duglas, Alexander *Duncan, Benjamin *Elliott, Robert *Estill, Mary Ann *Estill, William *Faris, Michael *Farthing, Edward *Fincher, William *Fitzgerald, John *Fletcher, William *Ford, Peter *Fowler, Matthew *Fullilove, William *Gaps, David *Gentry, Enoch *Giles, James *Gillispie, William *Goff, Alexander *Gray, Stephen *Green, Stephen *Gully, Thomas *Gyn, Jacob *Hamilton, William *Harris, Benjamin *Harris, Christopher *Harris, James *Harris, Thomas *Harrison, James *Hart, William *Hawkins, atharine *Hawkins, Joseph *Hawkins, Nathan *Hehy, Michael *Heming, James *Hill, Joshua *Holand, John *Hoy, Roland *Hoy, William *Huggins, William *Irvine, Charles *Irvine, Christopher *Irvine, John *Johnson, Barnet *Jones, James *Kavenaugh, Charles *Kavanaugh, hilemon *Kelly, Samuel *Kincaid, John *Kinder, George *Lee, George *Lowry, James *Loyd, Samuel C. *Manson, John *Martin, James *Mason, William *Maupin, Daniel *Maxwell, Thomas *McCreery, James *McKenny, Joseph *McMillan, William *McMullin, James *McNeely, James *McWilliams, David *Merritt, Joseph *Miller, Abraham *Moody, Andrew Sr. *Moore, Burton *Moore, William *Morehead, William *Morrison, Hugh *Newland, Abraham *Nobles, David *Noland, Joshua *O Near, Jeremiah *Owsley, Thomas *Parks, Allen *Phelps, George *Phelps, John
... more names...
Comments are welcome..
---
---
Genealogy Records in Alabama, Georgia, Kentucky, North Carolina, South Carolina, Tennessee and Virginia
---
---