The Alexander Cleveland House in Ruckersville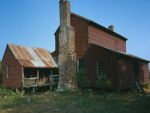 Alexander-Cleveland House is located near Ruckersville, Georgia. An old home from the early days. Many such dilapidated homes as this one are depicted in the Georgia countryside landscape. It it is worth the time and effort to take in hand an old county map and (using the legend) try and locate the old home place as well as cemeteries hidden in the grass.
Comments are welcome..
---
---
Genealogy Records in Alabama, Georgia, Kentucky, North Carolina, South Carolina, Tennessee and Virginia
---
---