Don't Forget to Search the Port City of Charleston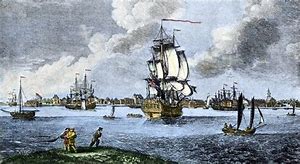 The social experiment of General Oglethorpe taking the poor citizens of London off the streets providing opportunity for them in the New World, specifically the Colony of Georgia, did not work. Many of those same people, once in Savannah, were lazy and no account. The exception were the Germans brought to Ebenezer, who suffered the same hardships, yet labored long hours in the fields and became an thriving community. By 1741, the lazy people ran off to Charleston, South Carolina. Many of these names may be found in the
Colonial Records of Georgia by Candler.
The researcher must afterward research the Colonial Records of Charleston, all of which survived. The port city of Charleston thrived during the worst of times and its records disclose affidavits of court cases, deeds, estates, wills, etc. You get everything from the menial activities of mariners to the capture of pirates! The Charleston records dating from 1671 to 1846 are available to members of
South Carolina Pioneers
Comments are welcome..
---
---
Genealogy Records in Alabama, Georgia, Kentucky, North Carolina, South Carolina, Tennessee and Virginia
---
---
"Thanks to everyone who has sent their brick wall for me to work on thus far. I am enjoying the challenge! There are so many interesting factors in this work, from the ports of immigration and the various settlements in America to families of more recent times. If you have not yet taken advantage, please do so now.
JOIN now for free brick wall help
Then send me your information. Members, please
MEMBERS CLICK HERE to view the results of this work as you may share the same families!
" Jeannette Holland Austin