Explorers into Alabama, and Further West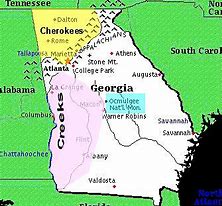 Finding the persons who passed through Georgia before the removal of the Indians is often difficult. For one, they had to acquire approval from the Georgia Governor. For this reason, the following book is suggested:
Passports Issued by Governors of Georgia 1785 to 1820 by Mrs. Mary G. Bryan.
Next, you need to examine the various Indian trails (maps on line) to get a better focus on the situation. Most of these people were explorers, traders and hunters. Some of them married squaws. Such marriages were not recorded in public county records, and the odds of finding this information is remote. The records of The Creek Agent near Macon, (1754-1816)
Benjamin Hawkins (1754-1816)
should be examined for possible names. Typically, all of the Indian Rolls should be examined, especially the
Dawes Rolls
because that is when some 32,000 applicant claimed lineage to the Creeks and Cherokees. It is a long, drawn-out process.
Comments are welcome..
---
---
Genealogy Records in Alabama, Georgia, Kentucky, North Carolina, South Carolina, Tennessee and Virginia
---
---
"Thanks to everyone who has sent their brick wall for me to work on thus far. I am enjoying the challenge! There are so many interesting factors in this work, from the ports of immigration and the various settlements in America to families of more recent times. If you have not yet taken advantage, please do so now.
JOIN now for free brick wall help
Then send me your information. Members, please
MEMBERS CLICK HERE to view the results of this work as you may share the same families!
" Jeannette Holland Austin