"He Came Over in a Barrel"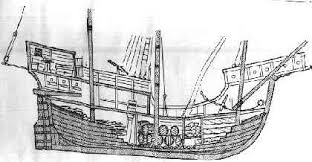 There are lots of interesting tales being spun concerning the origins of the ancestors. A popular refrain is "three brothers came over." Then there is the one who crossed the seas hiding inside of a barrel. The truth is usually far removed from such tales, and the only means to find it is to dig into the immigration records at the Federal Archives. The Federal Records Center is open to the Atlanta area five days per week at the following address: 5780 Jonesboro Road, Morrow, GA 30260. Hours: 8:30 am-5 PM, Monday thru Friday. Note: the Ship's Manifest listing passenger names, ages, place of port and distination may date up to three months after the actual voyage.
If your ancestors were at sea enroute during the 18th century, deaths were rather frequent. The list of shipwrecks includes ships sunk, foundered, grounded or otherwise lost. The estimate of maritime deaths of Great Britain vessels on the high seas is as follows:
1703> 1500 plus
1707> 1400-2000
1782> 3500
Still and all, considering radar, sonar and other modern ship-detecting devices, sunken vessels continue to be discovered on the high seas and these estimates may just begin to touch the surface of reality.
---
---
Index to Georgia Wills-See Names of your Ancestors