Glynn County Wills, Estates, Marriages, City Directories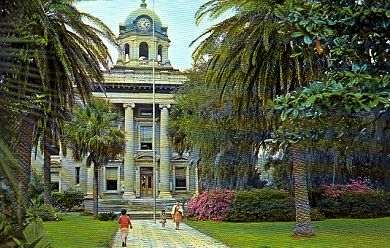 General Oglethorpe first put settlers on St. Simons Island in 1836; the transport was primarily Englishmen. The first parish church was located on the island. After 1848 when Oglethorpe won the land war with Spain and disbanded his Georgia regiment and returned to England, settlers began to desert the military post and find land grants throughout the county. Many of them removed to McIntosh and Liberty Counties. The Colonial period was divided by the parishs of St. David, St. Parick and St. Jones, organized in 1758.Glynn County was created in 1777 and named in honor of John Glynn, a member of the British House of Commons who defended the cause of the American Colonies in the difficulties which led to the Revolutionary War. Research should also include the Colonial Records of Georgia by Candler; Mcintosh and Liberty Counties.
Wills and Estates
Wills & Appraisements 1809-1843
Wills & Appraisements 1842-1849
Images of Originals of Wills and Estates 1809 to 1845
Online Images of Wills & Appraisements 1856-1866
Names of Testators: Bell, W. W., Brooks, Samuel,Burnett, Samuel M.,Clubb, James W.,Corbit, Samuel, Couper, James Hamilton,Dart, Anna,Davenport, William G., DuBignon, Felicitt,Fins, Job,Gignilliat, John M.,Golden, Thomas, Hamilton, James,Harris, Horace J., Hazlehurst, Frances L.,Hazzard, Thomas T. (Dr.),Hillier, Thomas,Hinkman,, R. S.,Holland, John, Hooker, Ann O.,Hubbs, James S. Sr., Jenkins, William,Johnston, P. C., Jones, Daniel,King, Ann Matilda,King, Matilda, wife of Thomas Butler King,King, Thomas,Lamb, Celia,Mc Conn, P. H.,Moore, J. W.,Moore, Sarah, Moore, S. B.,O'Sullivan, Florence,Pettigrew, George W.,Piles, John, Ratcliff, James M.,Roden, John,Royall, Horace J.,Rumph, John R., Spears, Anderson,Stafford, Robert,Stevens, Charles, Tison, Job, Ira and Mrs. J. L.,Troup, James, Truscott, William, Turner, William,Welbourne, Charles,Westmoreland, Eardly G.,Wood, John R.,Woolley, Vardy.
Indexes to Probate Records
Wills, Inventories, Appraisements, Bk D 1810-1843
Wills, Inventories, Appraisements, Bk D 1844-1853
Marriages
1818 to 1852.
1885 to 1886.
Maps
City Directories
1890 Brunswick
1892 Brunswick.
1892 St. Simons Island.
1898 St. Simons Island.
Traced Genealogies of Glynn County Families
Couper
Dubignon
Harris
Mackay
McIntosh
Tyson
---
---
Index to Georgia Wills-See Names of your Ancestors