The Famous Vessel Sovereign of the Seas.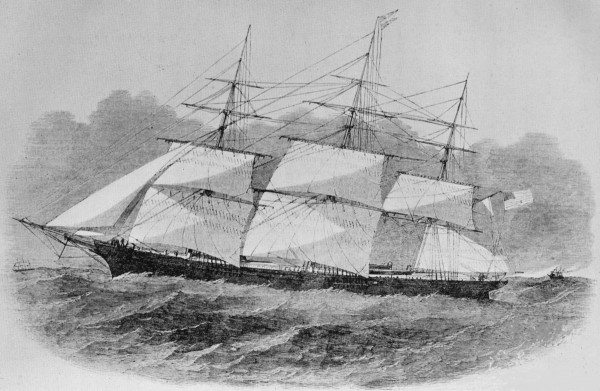 A celebrated clipper ship known as the
Sovereign of the Seas
was used for emigrants. It's maiden voyage sailed from Liverpool in June of 1852. It was built by Donald Mackay for the American Swallowtail Line and was hailed as the largest merchant ship in the world, the measurement of her keel being 245 feet and overall length 265. She was commanded by the younger brother of Donald Mackay, Captain Lauchlan Mackay, one of the best known skippers in the United States. Somer of the Mackay families found their way to brunswick and Darien, Georgia. Her first voyage carried 2950 tons of cargo when it sailed from New York to San Francisco on 4th August, 1852; and considering the season of the year, she made a wonderful run south, crossing the equator in 25 days. It took her nine days to make the passage of the Horn; but shortly after rounding the Horn she carried away her fore and main topmasts and sprang her foreyard. Captain Mackay, however, kept the seas and refitted his ship in 14 days, during the whole of which time he is said to have remained on deck, snatching what little sleep he allowed himself in a deck chair. The
Sovereign of the Seas
despite this mishap arrived in San Francisco only 103 days out, and this was considered the best passage ever made at such an unfavourable season of the year. From San Francisco she went across to Honolulu in ballast and there loaded a cargo of sperm oil; it being the custom of American whalers to call in there and leave their oil for transhipment so as to clear their holds for a fresh catch. She departed Honolulu on 13th February, 1853, for New York, and once again made a most remarkable passage in spite of a sprung fore topmast, jury fore top gallant mast and a weak crew; no doubt. A large portion of her original crew deserted in San Francisco in the hope of reaching the gold diggings, but were probably only to be shanghaied on some homeward bounder. When Donald Mackay crossed the Atlantic on July 2nd, he spent his entire time watching her every movement, and it was probably the experience gained on this passage which had much to do with the wonderful success of the construction of his later vessels. On her arrival in Liverpool the
Sovereign of the Seas
was at once chartered by the Black Ball Line. Captain Lauchlan Mackay, however, did not remain in her, but returned to New York, his place being taken by Captain Warner, who had been in the ship since she was launched.
---
---
Index to Georgia Wills-See Names of your Ancestors