Haralson County Wills, Estates, Marriages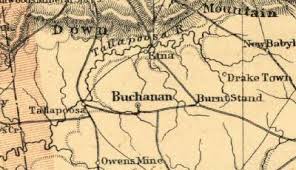 Ancestors in Haralson, Meriwether and Troup Counties as settlers were removing into the old Indian lands. From there, they went in Chambers County, Alabama and other surrounding border counties to Georgia. Haralson County was created in 1856 from Carroll and Polk Counties. Early Settlers: Martin Ayers, S. D. Blackman, Dennis Bates, W. J. Crawford, W. H. Chaffee, Vinson Chandler, James Dunn, B. F. Edwards, Walter Foyer, E. F. Garrett, John Humphries, J. C. Jackson, Robert Kilgore, Joseph Little, E. D. E. Pollard, Logan Root, Thomas C. Smith, C. A. Upshaw and Z. T. Williams.
Probate Records Available to Members of Georgia Pioneers
Indexes to Probate Records
Index to Will Book A (1865-1919)
Index to Deed Book A.
Marriages from newspapers (1885-1886).
Index to Appraisements and Sale Bills (1884-1937).
Index to Appraisements, Sale Bills, Inventories, Annual Returns (1865-1884).
Online Images of Wills (1865 to 1900)
Testators: Aldridge, Patrick; Aldridge, William; Ayres, Martin; Bachus, James; Bates, Dennis; Bowling, David; Cagle, Benjamin; Crocket, Sarah; Daniel, S. L. M. C.; Davis, John; Edwards, B. F.; Fincher, G. W.; Ford, William ; Goldin, Nathan; Goldin, T. E.; Hamilton, John; Hilton, Amos;Holcombe, Reuben K.; Holcombe, Reuben; Holland, Fallon; Hudson, James; Jennings, William; Johnson, Thomas; Jordan, J. M.; Kilgore, Robert; Lathan, Henry ; Little, S. B.; McClung, S. B. L. J.; Newman, Ephraim; Posey, Sarah Melvin; Powell, Presley; Reid, Reuben; Smith, Lucretia; Summerfield, B. F.; Summerville, Robert; Weatherby, Aaron; Weatherby, Sarah; Westbrooks, James; Whistenhunt, Benjamin, orphans of; Williams, W. N.; Williams, Wyatt; Wilson, Absalom; Woods, Abraham; Young, S. A. E. F.
Online Images of Miscellaneous Superior Court Cases
D. L. Drussell vs. H. C. Waldrop
Hamilton vs. Langmeade
Kenneth Hebrid vs. Duncan Munne
P. S. Dean vs. Georgia Pacific Railway
P. S. Dean vs. Georgia Pacific Railway
Robinson vs. William O. Rour
Morris, S. J. vs. Rubin Morris
The State vs. John Warren
Online Images of Miscellaneous Deeds
Brooks, George to J. W. Bennett
Copeland, Etta (Mrs.) to Willie Tolbert Head, et al
Head, G. W. (Mrs.) to Mrs. Allice Harrison
Head, N. C. R. to W. T. Head Sr.
Head, W. T. to George W. Head
Pope, A. A. to W. E. Johnson
Strickland, S. W. & Co. to Whitlaw Wyatt
Watson, Benjamin F. to Fields
Watson, B.
Watson, Burton
Watson, Burton to Bryce
Watson, James
Williamson, M. C. (Mrs) ti Elbert A. Williamson
---
---
Index to Georgia Wills-See Names of your Ancestors