How to Actually Find Ancestors
Genealogy Tips by Jeannette Holland Austin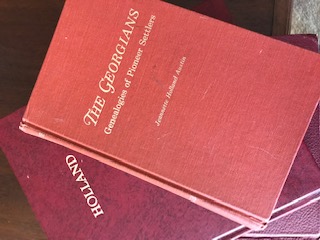 Lots of people ask me how to start finding ancestors. Some think that the DNA test will solve their problems. The DNA test should be regarded more so as entertainment rather than the means to finding ancestors. The reason is, if you are serious about tracing ancestors, the sure means of discovery is to search for them generation-by-generation in the following records:
Birth and Death records. Usually, these were not kept until after 1900. Old bible records (such as those collected on Georgia Pioneers, are beneficial and one should be on the look-out for them (ask relatives) as the Bible was the source of Family Information for centuries.
Census. 1790-1840 does not reveal the names of the children. The 1850 census forward provides names, ages, where born, etc.
County Records, such as old wills, estates, annual returns, receipts, marriages, deeds and tax digests. One can trace ancestors using county records in the US back to 1606 or 1607.
Passenger Lists. Although we do not have all ship manifests by a long shot, the published immigration records are an excellent guide-line to learning when persons with your surname entered the country, and where. Then search county records.
Great Britain. The parish records date back to the 1500s in England and provide a wealth of information. In the old days, everyone belonged to a parish where records were kept of births, christenings, baptisms, deaths, and burials. Irish and Scottish records did not survive. They begin ca 1840.
Germans. Lots of settlers to America came from the German Palatinate. read this article
American History. Do not forget to learn more about the history of the times of each ancestor. This will help you to know where to look next.
. . . more . . .
---
---
Index to Georgia Wills-See Names of your Ancestors

Share your genealogy comments on
Mastodon.Social